On Saturday 17th March 2018 I'll be offering a short self-hypnosis workshop at the Happy Teens Wellbeing day in St Albans.
"A must for anyone who has, works with, or is a teenager!"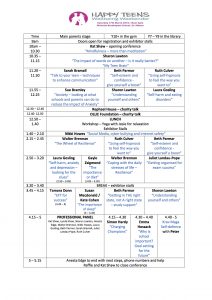 There's an amazing line-up of youth wellbeing professionals speaking  – click on the timetable image here for details. Capacity is limited and the last event sold out, so book your tickets early.
There's a free Exams/Study Self-Hypnosis MP3 for anyone who attends!
I look forward to seeing you there.